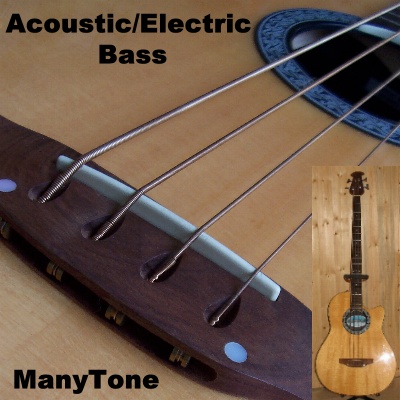 Manytone Acoustic Electric Bass
The Manytone Acoustic Electric Bass...
What does it sound like?
Details
Price: $29.95 - Downloadable Manytone Acoustic Electric Bass
Price: $49.95 - Downloadable Acoustic Bass Bundle. (Includes the Manytone Upright Bass Sampleset)
The links to download the product will be sent by email within 24 hours of placing your order. (Usually much sooner)
WusikSnd format - 24 bit Sampleset
The Manytone Acoustic Electric Bass includes both a DI soundset and a Mic'd soundset, such that the layering of these soundsets can produce unique tones. It also includes many diverse presets for ManyStation and WusikStation version 2 and up. Some of these presets have the Mic'd and Pickup sets layered and allow you to blend each set as needed to fit your Mix. A Preset Bank is also included for use in our ManyGuitar VSTi. To layer the Mic and Pickup sets in ManyGuitar you will need to load up 2 instances of ManyGuitar. There are presets included, that have ready to use Mic and Pickup layers, just load the same named preset for the Mic and the Pickup, into each instance of ManyGuitar. You can then copy your midi file to both instances and use your mixer to blend the Mic and Pickup to achieve the sound you want. Of course you can also use each set on its own in a single instance if you so desire.
The Soundsets (but not the presets) will also load in ManyOne, EVE, and other sample players that load the WusikSND format.
Soundfont format - 16 bit SF2
Includes 2 Soundfont files - A Mic SF2 and a Pickup SF2. No presets are included with the SF2 version as different SF2 players all use different formats, but the Manytone Acoustic Electric Bass soundsets are ready to load into any Soundfont player and are natural and ready to use as is, or you can easily create a few of your own presets.
VSampler VSTi/DXi - 24 bit instrument
The VSampler version includes some professionally crafted mappings, created for ease of use and great sound in the Vsampler VSTi or DXi. There are also controller assignments that add to the features of the bass. For example, some programs in the bank use MIDI controller #15 to blend the Mic'd and the pickup sets, thus allowing you to easily layer the sets as your mix requires. Programs are also included for the individual mic and pickup sets. Thanks goes to Anil K. Jain, who knows his VSampler very well, for mapping this fantastic VSampler bank.
Kontakt format - 24 bit instrument
We have put special effort into developing a Kontakt format for the ManyTone Upright Bass, taking advantage of Kontakt's scripting capabilities. Click here to read more about the Kontakt version.
Other formats
Coming soon!! Please note that if you own another sampler like Halion or other, we are looking for help with mapping the samples in these formats. If you are experienced with mapping raw wav files and are a registered user of another Sampler format, please contact us for further details.
Mapping info
Includes Multi-velocity full length samples as well as Harmonics, Mute notes, Slides and other FX. This Acoustic Bass also has drop tuned low D notes and drop tuned low C notes (mapped down to Low B). For ease of use, all the notes and fx are assembled into a Single large Soundset for each of the Mic'd and PickUp sets. The 2 Soundsets are mapped the same, to allow for layering and blending them in a mix, or you may use each set on its own.
C-1 - D#1 - Harmonics - Mapped chromatically so that false harmonics can also be played.
E1 - A#1 - String and note slides
B1 - A#5 - 3 velocity layers of full length notes mapped 0-84 Soft layer, 85 - 125 Medium layer and 126 -127 Heavy layer. Includes drop tuned low D and C notes mapped down to low B1.
B5 - G9 - Mute notes are mapped here to the right of the full length notes. If you have a large keyboard controller attached, this makes for easy true staccato style playing and programming, by allowing you to play the full notes on the left hand and the mute notes with the right hand. If you do not have a keyboard controller you can also use this technique in your piano roll or whatever other method you use to sequence your tracks.
Please note that the VSampler bank also includes variations of the standard mappings listed above.