Cyber Weekend Sale
Nov 29 2013
Get 50% off all products this weekend and Monday. Poke around the site to see our products and then see this forum post for details on how to get 50% off regular prices:
Welcome to ManyTone.com
July 22 2011
Thanks for visiting us! ManyTone Music are known for their Virtual Instrument plugins and Sample packs for Windows and Mac.
Please take a look around the website using the links on the left. You can view the various products and listen to demo tracks made with the instruments. We also have a Demo version of ManyBass available to try on your PC or Mac. Please don't hesitate to contact us if you have any questions about our products.
ManyTone Swag - Guitar Pick Set Now Available
May 22nd 2009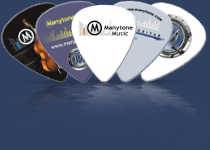 We have just released a set of 5 custom ManyTone Guitar Picks. The picks can be purchased in the new "Swag" category on the main menu. While the current supply lasts, we are offering a free set, sent to you with any new purchase or combination of purchases totaling over $48.95.
Manytone Birthday/Halloween Sale was a big success
November 11th, 2008
Thanks to all of you that participated in our Birthday sale. It was a huge success and we greatly appreciate your business. We hope you are all enjoying your new instruments. Although the Big Birthday sale is now over, we still have a few items on sale, so have a poke around the site and see what you find. In the meantime, we'll be busy working on new cool things!!!
Manytone Fretless Bass released
July 29th, 2008
The Manytone Fretless Bass, an extensive sample library has now been released.
Sale prices now in effect!
May 11th, 2008
Get ManyStation, ManyOne, ManyBass, or ManyGuitar for a reduced price: